Help Thousands of Sick & Injured Animals Like Fudge
We saved Fudge just in time.
More pets like him will need your support.
When Fudge came to our Inchicore clinic he was in deep trouble. He had diarrhoea. He was vomiting. And he had a nasty swelling in his side, just behind his ribcage.
Our team got to work. We treated Fudge for the vomiting and the diarrhoea, which soon cleared up. Fudge still had that swelling on his ribcage to deal with. It looked severe.
An ultrasound scan revealed why. The swelling was caused by foreign object lodged behind his liver. To save his life we had to remove the object, or it could penetrate a vital organ such as his liver, spleen or kidney.
We took Fudge into exploratory surgery, and saw a kebab stick lodged inside him. It had burst through his stomach. Our team of vets and nurse spent several hours in surgery trying to save Fudge's life. We removed the kebab stick and stitched up the stomach wall, ensuring that all vital organs were safe.
Fudge recovered well from his ordeal but it wasn't easy. To help him heal, we put him on a course of antibiotics and painkillers. He had stitches in his stomach for ten days. During that time, his pet parents looked after him, spoiling him with kindness, and keeping him comfortable.
Thanks to the quick intervention of the Irish Blue Cross, Fudge survived. Luckily for him, we were there.
Our emergency surgery saved Fudge's life. This is a vital part of what we do.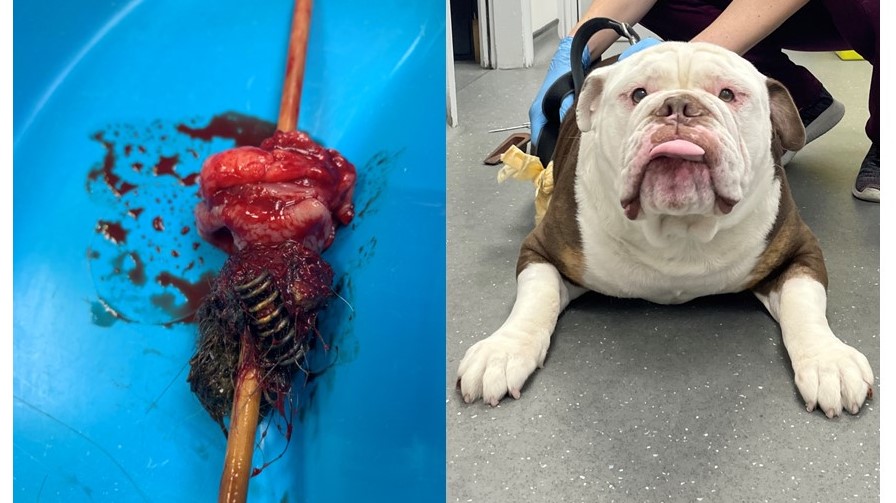 Please help us to keep our essential veterinary services open, to save the lives of thousands more pets like Fudge.
Click here to make a donation now!